Thrivent Builds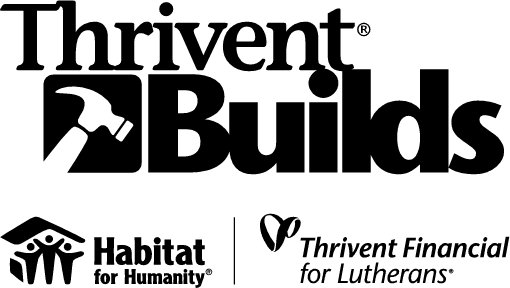 Thrivent Builds with Habitat for Humanity may be the most recent chapter in the ongoing relationship between the two organizations, but both have been working side-by-side with volunteers and homeowners for more than a decade, creating decent, affordable housing for those hoping to enter the economic mainstream.
Since 1991, Thrivent Financial and Habitat together built 500 homes. And with Thrivent Builds, the goal is to build hundreds of homes each year in the near future with Thrivent Financial members, Lutheran congregations and other volunteers around the United States and around the world.
Thrivent Builds: 2017
To date, our combined efforts have resulted in more than 5.2 million volunteer hours donated by more than 727,000 Thrivent members and other volunteers as part of Thrivent Builds. Additionally, Thrivent and its members have contributed more than $226 million to Habitat since the Thrivent Builds with Habitat for Humanity partnership began in 2005.
In 2017, Thrivent Financial's goal is to build, rehab or repair nearly 600 homes in the United States and send as many as 150 teams across the U.S. and across the globe, as part of Thrivent Builds Worldwide, to help address shelter needs. The Thrivent Builds Worldwide teams work under the direction of Habitat's Global Village program, which has been sending volunteer teams around the world for more than 25 years.
The partnership consists of three programs with Habitat for Humanity: Thrivent Builds Homes, Thrivent Builds Worldwide and Thrivent Builds Repairs. These programs allow Thrivent Financial to partner with Habitat and low-income families in the construction, repair and rehabilitation of affordable housing in communities across the United States and abroad. More than 2,900 homes have been built with the Thrivent Builds programs.