Thrivent Builds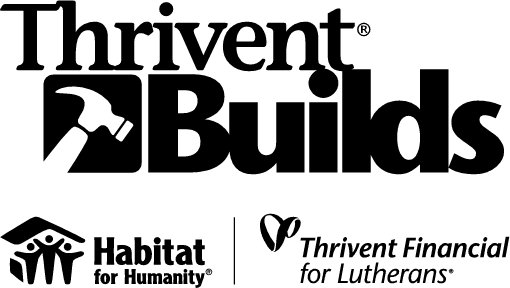 Thrivent Builds with Habitat for Humanity may be the most recent chapter in the ongoing relationship between the two organizations, but both have been working side-by-side with volunteers and homeowners for more than a decade, creating decent, affordable housing for those hoping to enter the economic mainstream.
Since 1991, Thrivent Financial and Habitat together built 500 homes. And with Thrivent Builds, the goal is to build hundreds of homes each year in the near future with Thrivent Financial members, Lutheran congregations and other volunteers around the United States and around the world.
Within this section, you'll find a wealth of information on both organizations. Use the navigation on the left to learn more.
Thrivent Financial commits $6.8 million to Habitat for Humanity
For the eighth consecutive year, Thrivent Financial is committing millions to stabilize, strengthen and secure communities in 2013 through its unique partnership called Thrivent Builds with Habitat for Humanity.
Thrivent Financial for Lutherans announced that in 2013 it will fund the construction and rehabilitation of 113 Habitat for Humanity homes in 31 U.S. states through a $6.8 million contribution. Thrivent's total 8 year support will surpass $180 million in 2013.
The partnership consists of three programs with Habitat for Humanity: Thrivent Builds Homes, Thrivent Builds Worldwide and Thrivent Builds Repairs. These programs allow Thrivent Financial to partner with Habitat and low-income families in the construction, repair and rehabilitation of affordable housing in communities across the United States and abroad. More than 2,900 homes have been built with the Thrivent Builds programs.